A fifth of respondents in a recent survey predicted the S&P 500 will be up more than 10% by the end of this year, about the same number who predict it will be down by that amount. This according to a recent Bloomberg article.
Nicholas Colas, co-founder of DataTrek Research (the firm that conducted the survey) wrote that in the 341 responses received "every option from 'really bad' (down +10% from here) to 'really good' (+10%) got basically the same number of votes. And we're only talking about the next six months."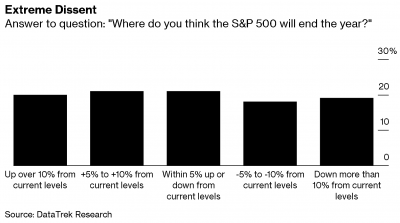 The article notes that the dispersion is understandable given the market's "fastest-ever fall into a bear market" which gave way to the "quickest 50-day rally in nine decades." It adds that while investors are hoping for a quick recovery from the coronavirus pandemic, things remain in flux as cases continue to rise across the country and uncertainty looms over the coming presidential election.
Charles Schwab vice president of trading and derivatives Randy Frederick noted, "No one knows what's going to happen with the virus—we don't know if we're going to have more effective therapeutics, we don't know if we're actually going to get a vaccine." Regarding the market, he added, "We've got two full quarters potentially of it being as volatile and uncertain as it is now."