Strategists at JPMorgan Chase have upped their exposure to global stocks and retreated further from sovereign bonds, calling the recent positive vaccine news a "game changer" for markets. This according to a recent article in Bloomberg.
"The vaccine breakthrough will allow investors to look past the resurgence in coronavirus cases toward the end of the pandemic and the broader reopening of the global economy," the article says, citing comments from JPMorgan Chase strategists and adding that the firm's bullish view was bolstered by a positive third quarter earnings season and a "benign" U.S. election outcome.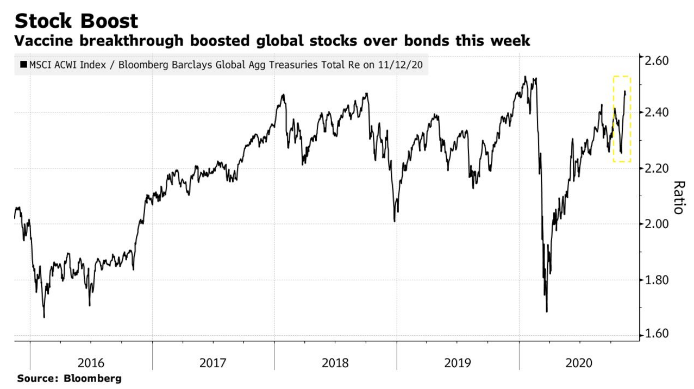 In a recent report, the strategists wrote, "We retain a pro-risk allocation in our model portfolio given the easing of major market risks, still moderate investor positioning, strong growth rebound, and robust policy support."
JPMorgan Chase reportedly boosted its equity overweight to 10%, up from 8%, and boosted its underweighting of government bonds to minus 12% (from minus 11%) while also reducing its overweight position in corporate bonds.
"Euphoria over positive vaccine efficacy data from Pfizer Inc. and BioNTech SE sent global stocks surging against their bond counterparts," the article notes, adding that the MSCI World Index rose by 9% last month while the Bloomberg Barclays Global Aggregate Treasuries Total Return Index remained relatively unchanged.
According to the article, the strategists believe that global value stocks should enjoy a period of long-term outperformance once the vaccine arrives, leading them to prefer non-U.S. shares over their U.S. holdings.