Nearly half of UBS Group AG's billionaire clients see the energy sector as one of the biggest opportunities for positive returns over the next five years, reports an article in Bloomberg that cites a survey from the bank. Biotech, pharmaceuticals and software were also top sectors highlighted in the poll of 50 billionaires.
---
---
Investors have been pouring money into energy since the war in Ukraine began earlier this year, wreaking havoc on supply chains and creating shortages around the world. But the ultra-rich have been attracted to energy even before the Russia-Ukraine war kicked the sector into high gear, especially given the quickening pace of the transition into renewables. In 2021, the Bamford family, which owns construction-equipment manufacturer JCB, created an investment fund that concentrates on the hydrogen industry. And the owners of Perenco, a European oil and gas company, launched a fund with a focus on uranium in 2019, the article details. Other high-net-worth investors are selling off their stakes while the prices remain high; Carlos Slim and his family slashed their position in PBF Energy by more than half, just as the company's stock price skyrocketed. Meanwhile, managers at UBS are "starting to see billionaire entrepreneurial capital starting to shift through…a leading indicator of where investments are likely to go," said Alice Page, head of the ultra-high net-worth solutions at UBS and co-author of the survey. According to the billionaires surveyed, the regions that looked most appealing for the best opportunities in the next five years were Asia Pacific, excluding China, and North America.
There are 2,668 billionaires worth $12.7 trillion around the world as of March of this year, down 3% from 2021, and the 500 richest people in the world have seen $1.3 trillion in assets eroded due to a weakening economy, Bloomberg reports, citing its wealth index.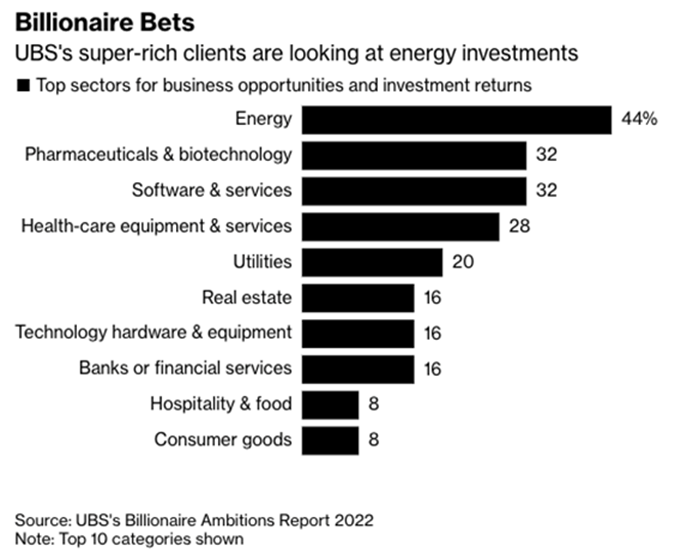 ———————————————
Validea runs stock and ETF models based on investment strategies with proven long-term track records. If you're new to Validea, consider taking a look at our product overview or introductory videos.
---