An article in Bloomberg reports that, for the second year in a row,  the U.S. Treasury Department is projected to issue $1 trillion in new debt to finance the growing government deficit.
The heavy borrowing, according to the article, is "darkening a fiscal outlook already made worrisome by rising entitlement-program expenses and higher costs to service America's nearly $16 trillion in debt."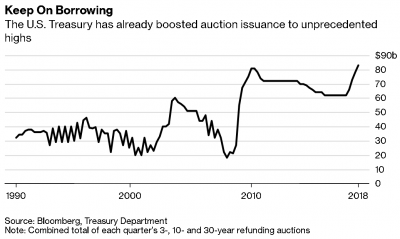 The article reports, "The Treasury's total net new issuance in 2018 amounted to $1.34 trillion, more than double the 2017 level of about $550 billion. In 2019, it will be $1.4 trillion, with $1.11 trillion from more coupon-bearing debt and the rest in bills, according to forecasts from Steven Zeng of Deutsche Bank."
Even with the marked increase in supply, the article notes, Treasury yields have not spiked because demand persists for "the world's safest securities, which also act as a global benchmark." But DoubleLine Capital's Jeffrey Gundlach is among those warning that the U.S. economy will suffer from the heavy debt load. At the World Economic Forum in Davos, Switzerland, billionaire investor Seth Klarman echoed the concerns, commenting that high debt levels, along with "global social tension and receding American leadership" all represent red flags.