The Bank of Russia's move toward monetary easing will lead to the ruble sinking by about 9% against the dollar by the end of the year, says the analyst who predicted the currency's second quarter rally. This according to an article in Bloomberg.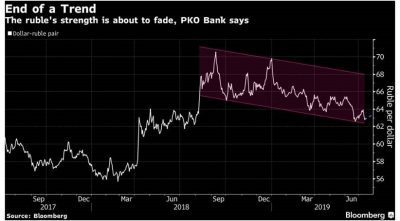 The analyst, currency strategist Jaroslaw Kosaty of PKO bank (Poland's largest bank), said "the negative effects of the Russian central bank's rate cuts on the ruble will prevail over the positive effects of the Fed actions."
The ruble experienced the world's strongest rebound after its 2018 collapse, the article explains, and bond yields dropped precipitously while looser global policies "fueled a rush into riskier markets." A second-consecutive rate cut of as much as 50 basis points is possible at the Russian central bank's next meeting, and Kosaty says additional rate cuts of 25 basis points each will probably come in the third and fourth quarters.
According to Kosaty, "The current economic situation is the U.S. is relatively strong when compared to others, and the Fed won't easily refrain from maintaining favorable interest-rate parity with the other main economic partners."