The message being delivered to investors by the Cboe Volatility Index (VIX) is that vigilance is in order. This according to a recent article in Bloomberg.
As of the article's publication earlier this month, the VIX–often referred to as the market's "fear gauge"—was above 16, reportedly "implying that U.S. stocks will tend to move more than 1% per day over the next month. In recent years, it hasn't lingered above this level unless equities were weakening."
The high reading, the article notes, "belied the brisk advance" of the S&P 500 over the same three-day time period. It was the first time, it said, that implied volatility had failed to dip amid stock gains since 2009, at the beginning of this bull market.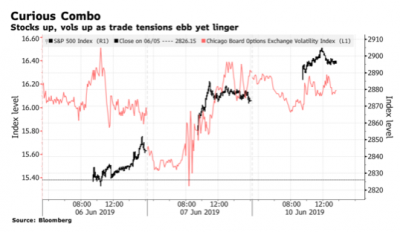 The article cites comments from Macro Risk Advisors derivatives strategist Vinay Viswanathan, who notes that the "event premium built into options that encompass" this year's G-20 Summit (occurring today and tomorrow, when President Trump will discuss trade issues with China) is "off its recent highs," recommending that nervous investors buy protection in the form of July put options on the S&P 500.