Although the value strategy has fallen on hard times for the past 12 years causing many to question whether it still works, historical data shows that the value advantage exists. This according to an article in Forbes.
The article offers the following chart by financial advisory firm Dimensional: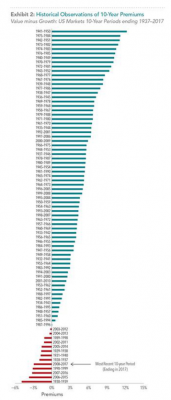 The article states, "This chart illustrates that although the ten years from 2006-2015, 2007-2016, and 2008-2017 have been some of the worst decades for Value investing, the overall historical record still shows a better return with Value stocks."
It also provides data from J.P. Morgan's latest quarterly Guide to the Markets that tracks the performance of growth stocks and the "relatively inexpensive historical valuation of small-cap value:"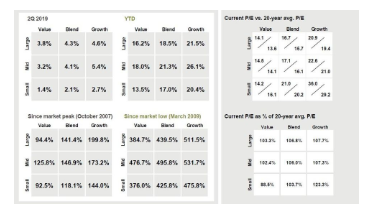 "Recently forward P/E ratios," the article explains, "have been suggestive that the Growth trend may be waning, and Value investing may once again outperform growth. But who is to tell when this will happen?