A survey of 100 institutional investors conducted last week (the II Fear Index poll) showed that 65 percent believe the long-term impacts of Covid-19 have not been sufficiently factored into stock markets, according to a recent article in Institutional Investor.
Here are some other key takeaways from the survey:
Bond prices were seen as "more realistic" with 59 percent of participants commenting that fixed-income markets accurately reflected the long-term effects of the coronavirus.
For the second week in a row, the survey showed that investors were "more concerned about public health than they were about economic stability, though by a smaller margin: 51 percent said their governments should prioritize public health over the economy," down from 55 percent in the prior week.
Investors responded that vaccines and coronavirus treatments would have the greatest impact on the course of the pandemic. In contrast, changes in national political leadership and economic strategy were seen as "less likely to accelerate the recovery from the health crisis," the article reports.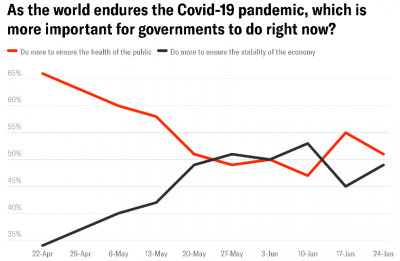 Most survey participants believe the broader public could be doing more to prevent the virus from spreading, with "64 percent indicating that changes in public behavior would accelerate the recovery from the pandemic."