Dividend producing stocks are attractive and offer investors compelling values (subscription required) according to this AAII Journal article by John Buckingham, director of research and chief portfolio manager of AFAM Capital and editor of the Prudent Speculator newsletter. Keep in mind, the article was written in mid-2015, but many of the statistics in the article are long term in nature and we believe investors seeking and investing in high dividend paying stocks should take note of this research.
There are a number of factors that make Buckingham positive on dividend oriented stocks. First off, Buckingham notes that non-dividend payers have actually outperformed dividend payers over the past three years. Additionally, low yields on fixed income instruments make dividend stocks appealing. He writes that "dividend yields are about as attractive as they've been in more than 50 years."
Buckingham reminds investors that dividends have been a significant contributor to stocks' total return. "Morningstar's Ibbotson Associates calculated that from 1927 through the end of 2012, the income component amounted to 42% of large-cap stock returns, 36% of mid-cap stock returns and 31% of small-cap stock returns." What's more, stocks that pay a dividend have outperformed those that haven't back to 1927, he writes, and have done so with less risk. The chart below demonstrates this point.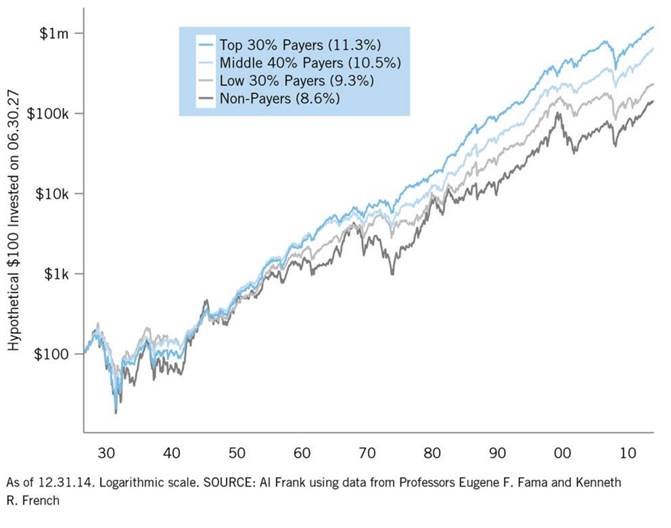 Dividends alone are not the only driver in Buckingham's stock selection process. He emphasizes looking for stocks that display value characteristics – low multiples of sales and earnings and book value are two important factors.
An increase in the interest rates by the Federal Reserve is unlikely to squash dividend payers. As you can see from the chart below, "stocks have actually gained ground for the full six months prior to the start of Fed tightenings on all but a couple of occasions. The same thing goes for the 12 months afterward."