"American companies are sitting on piles of cash, frustrating investors and leading some on Wall Street to wonder why they aren't spending," according to a recent CNBC article.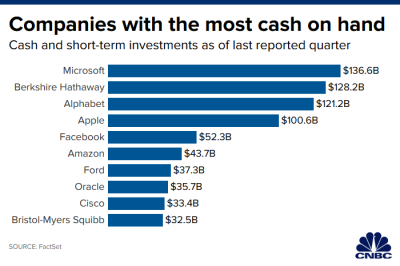 Microsoft tops the list with about $136 billon in the coffers as of last quarter (data from FactSet), followed by Berkshire Hathaway, Alphabet and Apple.
"Companies can spend through traditional means like capital investment and acquisitions, as well as by returning money to shareholders through buybacks and dividends," the article notes, adding, "Some argue that the latter—buybacks in particular—are a short-term boost for investors at the expense of the long-term health of the company and the economy more broadly."
Nomura analyst Christopher Eberle told CNBC that as companies continue to focus on top-line growth, they'll keep looking for acquisition targets. According to Evercore's Lee Horowitz, tech companies are particularly fond of big cash balances to keep "dry powder as a way to weather cyclical downturns" and, alternatively, to jump on market pullbacks by picking up assets.
The article notes that companies are spending by way of dividends and share buybacks, but some analysts contend it's not enough—it cites the example of Berkshire's $700 million share repurchase program announcement, which "underwhelmed the street."
RBC's Alex Zukin told CNBC that in recent years both Microsoft and Oracle have been less active on acquisitions due to rich valuations. But cash balances don't tell the whole story–"For instance," Eberle says, "while Oracle has $35 billion in cash it also has $48 billion in debt."