More companies are seeing insider buying of shares than insider selling, signaling optimism on the part of U.S. company executives. This according to a recent CNBC article.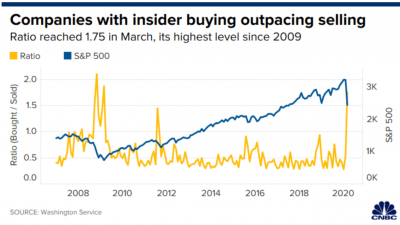 "Executives are loading up on their company shares as the coronavirus-driven sell-off dents the broader market, signaling the heads of U.S. businesses are confident their companies will rebound," the article says:
The article cites the example of Michael Dell, founder of Dell Technologies, who reportedly bought more than 800,000 shares (worth $26.3 million) in late March, adding, "insiders likely wouldn't be buying stock if they weren't expecting healthy business on the other side of the virus turmoil, but they are long term shareholders."
Private equity firms are also showing a bump in buying, the article notes, citing firms like Blackstone, Berkshire Hathaway and investor Carl Icahn.
In a note, InsiderScore director of research Ben Silverman wrote, "A dramatic increase in insider buying volume combined with dampened levels of insider selling has resulted in the generation of industry buy inflections—our strongest, quantitative macro signal—for the entire market."