Many Silicon Valley investors are giving the startups that they helped fund advice for a prolonged downturn, according to an article in The Wall Street Journal. Lightspeed Venture Partners, Craft Ventures, Sequoia Capital and Y Combinator all recently shared online presentations, blog or social media posts that recommended shearing expenses, saving cash, and setting aside hope that a deus ex machina in the form of hedge funds or investors will show up with big checks to bail them out.
In the past, investors have prioritized growth over everything else in the venture market, and the about-face in message is a signal that the boom of the last decade is likely over. The Nasdaq Composite, which is weighted with tech companies, has dropped 25% from last year's record high, and SoftBank Group Co., a major investor in tech, recently reported a $26.2 billion loss. Meanwhile, funding for start-ups around the world is on track to drop by roughly 1/5 compared to last year, the article reports. And the Fed is raising rates and removing money from the system in an effort to combat inflation—a much different scenario that past downturns when the central bank poured money into the markets.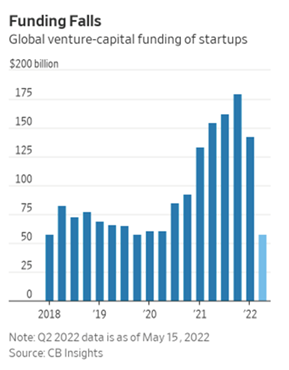 As the Fed policies make capital more expensive, companies need to preserve their cash for the long haul, venture capitalists are telling their start-up founders. In a presentation to 250 of their founders in May, Sequoia shared their belief that this will not be a correction followed by a quick V-shaped recovery, adding that "It will be a longer recovery."
But many start-ups have already built up their cash reserves from last year's excesses. Investors are advising they keep those reserves high by reducing staff, cutting their ad spending, and raising prices. And venture investors are trying to see the silver lining in the storm. Without access to easy cash, many start-ups that aren't viable will fade away, eliminating some competition. Those that focus on quality rather than quantity will also have more staying power. And the CEOs who make wise decisions and necessary changes to their companies will likely emerge from this downturn in a stronger, more solid position, the article concludes.