The number of leveraged loans (lending agreements with the most indebted companies in the U.S. and Europe) is high, according to The Wall Street Journal, a "development that investors worry could pressure financial markets if the global economic expansion starts to fade."
SBC Global Market Intelligence data shows that volume for leveraged loans is up 53% this year in the U.S. and is on track to beat the 2007 record of $534 billion. Even though default levels are low, the article says, this could spell trouble if market conditions deteriorate.
The article quotes Henrik Johnsson, co-head of global debt-capital capital markets at Deutsche Bank AG who says, "It feels like the market is getting frothy," adding, "We're overdue a correction."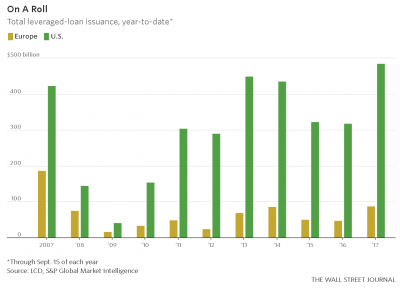 Private-equity firms use leveraged loan funds to raise cash for takeovers, the article explains, and investors have upped their interest as returns have dipped across the equity and bond markets. "In the U.S. alone," it says, "investors have poured $16.9 billion into loan funds this year, taking total assets to a record of $141.2 billion at the end of August, according to Thomson Reuters Lipper."
In Europe, an added worry is that recent loans are offering "lighter" covenants (terms in a loan contract intended to protect the lender and, therefore, the investor). "Covenant-lite" loans, the article says, have been more typical in the U.S. but not in Europe.