While fears of a recession are still roiling Wall Street, a trading model devised by JPMorgan Chase & Co. actually shows that the odds of a recession being priced into several markets has steeply dropped from last year's highs, according to an article in Bloomberg. Seven out of the nine asset classes in the model are indicating a less than 50% possibility of a downturn—a huge switch from last fall when most models were showing a nearly 100% chance of a recession in all markets.
---
---
However, as the S&P 500 is still pinning the chance of a recession at 73%, money managers across the globe have remained bearish. But even the S&P 500 has lowered its odds from 98% last year, and Wall Streeters who are more hopeful are betting that central banks may be able to engineer a soft landing after all, fueling a rally at the beginning of the year. In addition, as inflation begins to cool, gas prices deflate in Europe, and China reopens, the market is pricing in a "much lower chance of recession than it did back in October," says JPMorgan strategist Nikolaos Panigirtzoglou.
But other strategists, including some at JPMorgan, are advising caution in underpricing the pressure that a growth slowdown this year may put on stocks, the article reports, as well as persistently high interest rates. Likewise, the inverted Treasury yield curve, with 3-month bills yielding more than 10-year notes, has been a reliable recession warning sign that investors are wagering that a slowdown will occur. Even so, there's still cause for optimism. U.S. high-yield credit has repriced recession odds at 18%—down from 33%—and the EuroStoxx index's forecast dropped from 93% all the way down to 26%. And while the general consensus is that growth isn't going to come roaring back, "it's not going to be a Rocky Horror Show," Max Kettner of HSBC Bank Plc told Bloomberg TV in an interview. "There's simply a lack of downside catalysts [and] surprises, and therefore, the only way is up."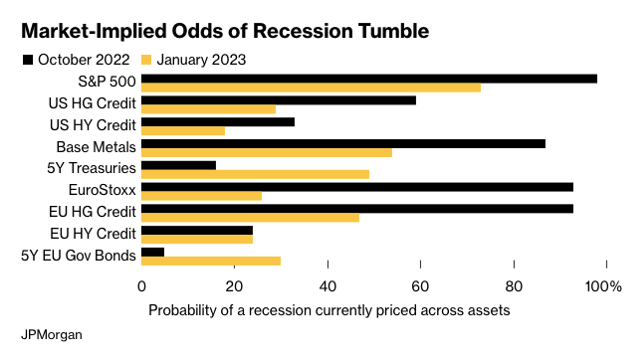 ———————————————
Validea runs stock and ETF models based on investment strategies with proven long-term track records. If you're new to Validea, consider taking a look at our product overview or introductory videos.
---