Google trends data are not showing that a U.S. recession is looming, says a recent article in Bloomberg.
Analysis by the firm DataTrek Research shows that Google queries for coupons, unemployment and television give "little cause for concern just now." In a recent note to clients, the firm's co-founder Nicholas Colas added, "If the Federal Reserve looked at Google Trends they might not be so inclined to cut rates next week."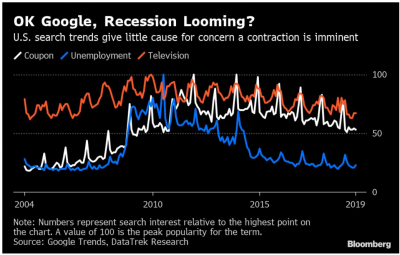 In his note, Colas explained that coupon searches are a leading indicator that U.S. consumers are looking for product and service discounts in the face of economic uncertainty. Google Trends is also a useful indicator since people conduct searches regarding unemployment when they fear layoff is around the corner—while jobless claims and payroll report data only capture trends after layoffs have already begun. The note added that searches for television tend to "coincide with cuts to overtime hours that give workers more time to consume media."
The data reflects that U.S. searches for "coupon" this year "have been hovering around the lowest level since 2010, and generally have been trending lower in recent years after a big upswing from 2007 to 2011." Searches for "unemployment are near the lowest levels since 2004, while searches for "TV," which peaked in 2009, are also at near historic lows.