An recent article in Bloomberg suggests that a factor investing technique might work well when picking winners in the March Madness brackets.
The technique involves integrating traditional factor criteria with a five-star system for the bracket pools, as follows:
Quality: One star for teams in the highest or second highest seed ranking according to ESPN's Basketball Power Index;
Size: Add a star for teams which were the most or second-most successful in prior NCAA tournaments (within their seed);
Momentum: Add a star for "1 to 8 seed with zero or one loss in the five games leading up to the tournament, and 9 to 16 seeds with two or more losses;"
Value: Add a star based on a formula for probability of winning and "frequency of pick for all teams that compete for a slot;"
Betting against Beta: Add a star "to encourage picking lots of mild upsets rather than one longshot."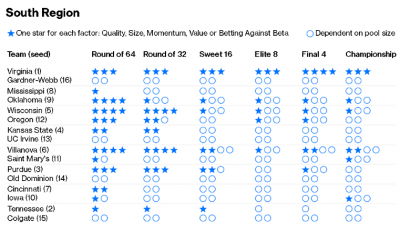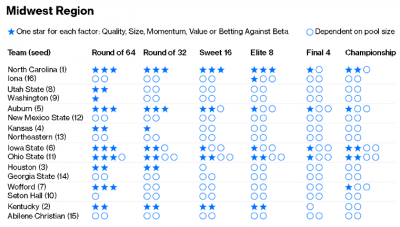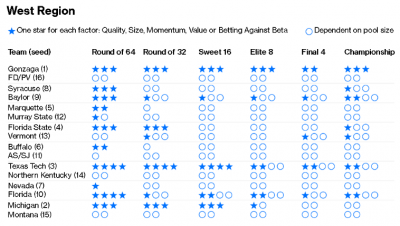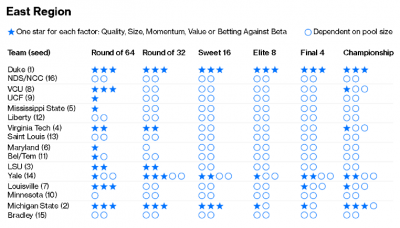 The article demonstrates the system as follows:
"If we start with the championship," the article explains, "we see only Duke, Michigan State, Gonzaga and Virginia are three-star picks for smaller pools. In somewhat larger pools, Michigan State becomes the only four-star pick, but Yale, Baylor, Texas Tech, Florida, Villanova, North Carolina, Ohio State and Iowa State become three-star picks. In a national pool, Yale, Michigan State, Baylor, Texas Tech, Florida, Villanova, Ohio State and Iowa State are the four-star picks."
With Virginia winning the tourney, we can say the quant system showed some validity in terms of predicting the outcome.