Investors in the U.S. will have to wait nine years for dividends to recover from the coronavirus-related downturn, according to a recent article in the Financial Times.
The prediction is based on the prices of futures contracts linked to annual dividends for S&P 500 businesses, which reportedly doled out nearly a half trillion dollars in dividends last year but have come under pressure to cut payouts to shareholders. Instead, the businesses have had to "focus on keeping up payments to workers and other stakeholders now that the virus has in many cases hit revenues," the article says. It notes that the dimmed outlook for dividend payouts will be a blow for investors who depend on steady income from stocks, including pension funds.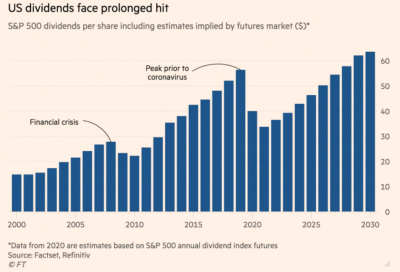 According to John Velis, BNY Mellon's director of FX and macro strategy, "The reason you own a stock is you want to own a share of the profits of the business. This will make holdings stocks a less attractive option." He adds, "You don't want to cut dividends because it's a really bad signal. Once you've established your dividend you only cut in extreme circumstances."
The article notes that the dividend outlook is further depressed by the U.S. government's $2 trillion spending package intended to buffer the pandemic's shock to the economy. According to Velis, companies that receive assistance will face extra pressure to cut dividends and share buybacks.