A survey by the National Association for Business Economics (NABE) released last month shows that more than three-quarters of business economists expect the U.S. to enter a recession by the end of 2021, according to a recent article in Bloomberg. The article also notes that most survey participants believe the Fed will continue raising rates this year.
Of the nearly 300 NABE member survey participants, the article reports that "ten percent saw a recession beginning this year, 42 percent project one next year, while 25 percent expect a contraction starting in 2021…The rest expect a recession later than 2021 or expressed no opinion."
The article cites comments from survey chair Megan Greene, who said, "There is a schism between what the NABE panel and the markets think about the Fed's rate path and the shrinking of its balance sheet. Markets are pricing in no more interest-rate hikes in 2019, whereas a majority of the NABE panel expects two rate hikes."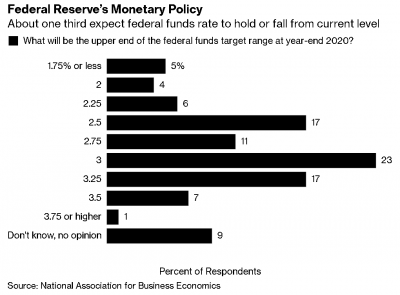 For most of the participants, the article reports, the president's trade policies remain a concern, with tariffs expected to boost inflation this year.