The valuation dispersion occurring in the market is presenting the "opportunity of a decade," according to a recent article in Bloomberg.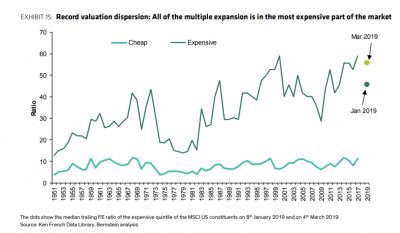 The article reports that a portfolio manager at the Julius Baer Group says the historic spread between the most and least expensive stocks is presenting strong buy opportunities for investors. The article also quotes Kairos Pegasus Fund's Federico Riggio, who argues that along with above-average earnings growth, the inexpensive segments of the equities market are a "gold mine for investors seeking another five years of strong returns."
Although Bank of America Merrill Lynch's latest fund manager survey shows that shorting the European equity market is the world's most popular trade at the moment, Riggio believes there is still plenty more upside to be had, arguing that both the Stoxx Europe 600 Index and the MSCI Europe Value Index are trading below long-term averages (on a price-earnings basis).
The article notes that easing economic momentum doesn't bode well for cyclical value sectors (such as financials) and tends to favor those companies with stronger cash flows (i.e. growth stocks).
Riggio describes the market as "dislocated" in terms of relative value and believes the environment of valuation dispersion is "very good for people that are aiming for a good long-term compounding."