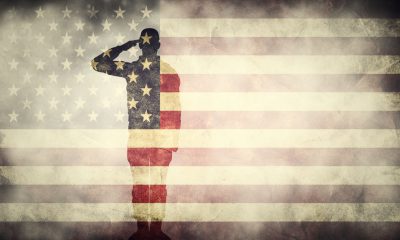 On September 28th, 2019, I had the privilege of participating in March for the Fallen (#MFTF), an event that honors military soldiers who lost their lives defending our country and our freedom.
Participants in the event—which takes place at the Pennsylvania Army National Guard base in Fort Indiantown Gap—can choose a 5K run or a 14-or 28-mile march. Everyone is free to set their own pace and take as much time as they need to complete the course. Marchers can go "lite", carrying no additional weight, or go "heavy", by lugging an extra 35 lbs (or much more for some people). The course is marked at each mile with a picture and rank of a fallen solider.
The image below is the collection of pictures of the soldiers honored on the march.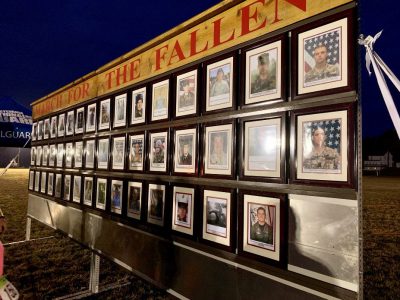 To challenge myself, I opted for a go-long, go-heavy and go-hard march by packing the heavy 35 lb pounds and maintaining a pace of 11 minutes per mile to complete the 28-mile march in a little over five hours. Our group, which came together under team Alpha Architect — Alpha Architect is a quantitative investing firm headed up by former Marine, Dr. Wes Gray — ended up placing first in the heavy division as we had five individuals in the top 10 finishing positions.
A few people asked me what my secret was in finishing as quickly as I did. While I had no great answer at the event—probably due to the dearth of blood in my brain—after some reflection I've come up with a few thoughts worth sharing that also relate to the investing world.
Training and Preparation Helps Uncover Hidden Risks
I started training for MFTF in early-to-mid July. At first, it was 8-10 miles at a time, gradually building to a few 15-milers and then a 20-mile ruck in early September. In total, I'm guessing I logged around 100-120 training miles.
While those hard miles helped prepared me physically, they also helped uncover failure points I might not have discovered otherwise. Calf cramps, chaffing, blisters, hot spots on my feet, dehydration, the pack's position on my back—these were all problem areas at one point or another in training. Any one of these things could have wreaked havoc on a 28-mile, fast-paced march, but because I had identified them in training, I was able to take minimize the up-front risk.
Understanding risk and failure points is also important to investing, and is often highlighted by investing expert James O'Shaughnessy with respect to active investing strategies. Not only can an active strategy lose money, he argues, but the degree to which it's active can result in significant deviation from the market. Any investor that chooses to invest in a differentiated strategy that offers the potential for outdoing the market over time needs to understand these risks and be prepared for deviations that come with such an approach. Knowing that failure point exists and staying disciplined is paramount in getting the most out of an active strategy. Other potential failure points arise from attempting to time the market, frequently monitoring account values and/or not taking full advantage of diversification. So it's important to guard against behaviors that can hurt your returns. Instead, focus on those actions that can improve your performance over the long march, even if it causes some short-term discomfort.
A Good Start Sets the Tone, but It's a Long Game
I completed the first few miles with a great group of guys — Nick McCullum, Corey Hoffstein and Jack Vogel. While having this experience early set a great tone early, it mattered less and less the further out on the course I got. Ultimately, it came down to my ability to push myself mile after mile.
Early experiences can also influence us as investors. Consider an investor who adopted an aggressive approach leading up to a bear market like those of 2000 or 2008/2009 and how their attitude would compare to someone who started pumping dollars into the market in in mid-2009 or 2010. The first investor would have seen 50% drawdowns off the bat, while the second would have experienced an epic run.
In either case, however, the investor who stays in the game and slogs through the tough miles stands the best chance to benefit from the returns stocks can provide over long periods of time.
Staying Consistent
I focused on two things throughout the march:
Trekking poles can take pressure and weight off your legs and offer a boost on the uphill portions of the course
Running whenever possible – yes even with the pack.
On a grueling, 28-mile course, it's easy to forget to put weight on the trekking poles or to walk more than run. For me, staying focused on these two strategies kept me in the game that was important to me.
The same holds true for investing. Dollar-cost-averaging, for example, offers a consistent way to be diligent about savings and investing. You can also implement consistent rebalancing techniques to maintain certain asset allocation levels. Consistency is paramount in the active investment strategies we run at Validea; we believe that performance potential is enhanced through systematic adherence to our models and rebalancing schedules as well as through strict deployment of portfolio management rules and maintenance of sell discipline.
If it Ain't Broke, Don't Tweak It
About two weeks before the march—and after months of training in my Hoka One One's running shoes, I made the mistake of buying hiking boots to help me on the gravel section of the course. What I thought would enhance my performance ended up injuring my feet, and the entire week leading up the course I wondered if I would be able to recover.
Constant monitoring of investment portfolios and attempts to enhance performance can also inflict pain, but with more disheartening and costly results. When we allow emotion to creep in and make adjustments in the hopes of improving results, more often than not we end up missing the mark and causing unnecessary pain. A better strategy is to eliminate intermittent second-guessing and over thinking things in favor of a solid strategy you can adhere to over the long-haul.
The Hills
The image below represents an elevation profile of the course. As you can see, a major incline begins around mile 6 and extends through mile 10. There are a few more hilly spots, but around mile 14 it's a steep downhill and then another big push-up from miles 19-23.
The hills are reminiscent of market cycles– bull markets tend to be longer in duration and bear markets tend to be much shorter with big declines.
But they offer a larger lesson: Hills are inevitable but they always end. Bull markets can feel like an endless climb, but eventually end in a declining bear market—there is no escaping the pattern. Since 2009, we've seen one of the longest bull markets in history, but that hill won't last forever, even if it can go on longer than you may expect. But the good thing is, the same holds true for bear markets – they don't last forever even though you may feel like they do when you see your portfolio down 30, 40 or even 50 percent. But the hills end, the cycle begins again and those focused on the long term and understand this win out over time. Bottom-line: it's some pretty serious incline.

Source: Michael Lecours, CFP & fpPATHFINDER
Go At Your Own Pace
Every participant in the march had to find their own pace – some walked while others took a more aggressive approach. For example, around miles 8-12 I was trying to hang with Josh Russell, but as he started to distance himself from me I didn't try to keep up. Then there was WisdomTree's quant resident, Liqian Ren, who basically marched for an impressive 12 hours. She just pushed through, not worrying about anyone else's pace but her own.
If everyone tried to keep up with others, many would not finish, and yet most set a pace that worked best for them.
Similarly, no two investors are exactly the same. One investor maybe saving for his/her retirement, while another may set far different investment goals. One investor may be a big risk-taker and comfortable holding a few stocks or large positions, while another may want to own the market and have little interest in hitting homeruns.
Takeaways
Like most things in life, nothing comes easy. The 28-mile course presented a host of challenges but ultimately offered an overwhelming sense of accomplishment, pride, team work and humility, particularly given the reasons we were there.
Similarly, investing takes planning, discipline and the ability to hang in for the long haul, even when the short-term promises a few blisters and backaches.
Note: Registration for the 2020 March for the Fallen will open soon!
#MFTF
https://www.gapmwr.com/march-for-the-fallen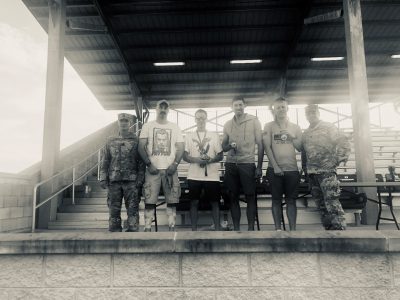 Pictured from left to right in civilian clothes: top finishers for team Alpha Architect – Mike Smith, Justin Carbonneau, Corey Hoffstein & Nick McCullum
Photo: Copyright: 123rf.com / niserin
---