The value stock-trade is getting crowded, according to an article in this week's WSJ, with some analysts saying they have been "picked over like never before."
The article cites a research report by strategists at Sanford Bernstein & Co. that says, "Sentiment towards value stocks has reached levels rarely seen before, with analysts upgrading value names faster than they have ever done in the past 30 years." This, says the article, could lead to a disproportionate downturn for the group in the next market sell-off.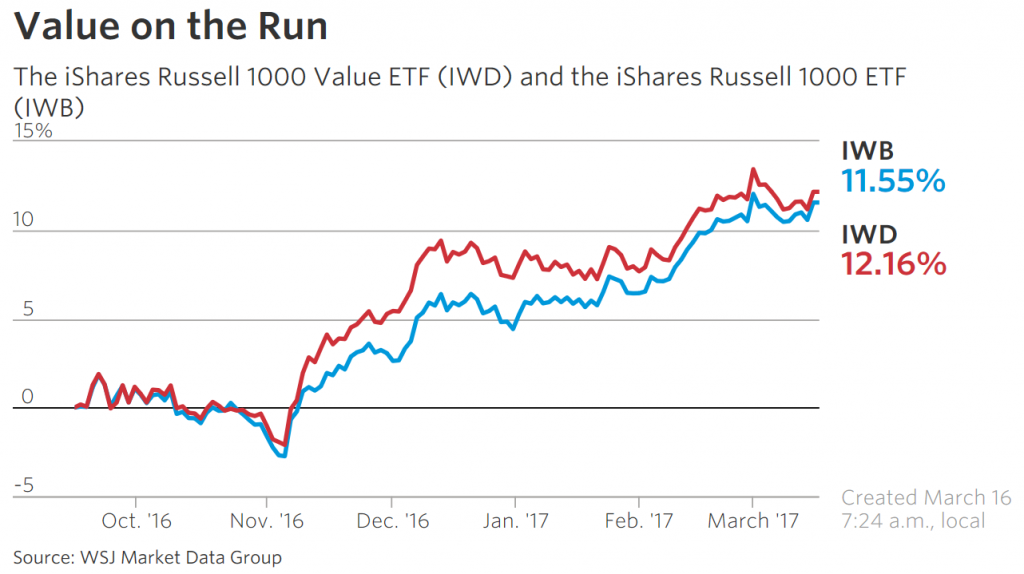 President Trump's unexpected victory was a boost to value stocks, the article asserts, and has led to renewed interest in those sectors pegged to benefit from new fiscal policies (such as financials and industrials). That said, it points out that "all value investors know that it's not easy to stick with beaten-down stocks through long periods of laggardly performance."
The article highlights observations of Wall Street Journal columnist Jason Zweig that true value investors have to be disciplined and stick with their strategy, even through significant downturns.
While the Sanford Bernstein strategists are not telling investors to sell-off value holdings, the article offers this comment from the report; "But very tactically, we think it would be prudent for investors to take down or neutralize their value tilts for the coming weeks."