Investing may have seemed easy last year, with its clear-cut views of where to put money, but that ease has disappeared for both bulls and bears, contends an article in The Wall Street Journal. Many of the simple signals such as overvalued stocks and downward trends in both stocks and bonds, have evaporated, making investing hard again.
---
---
Making things murkier are happenings such as the rising bond yield, and stock valuations that are again near their long-term average, as well as bubble bursts in the speculative tech, cryptocurrency, and clean energy sectors. And there's disagreement in the market about Fed policy and how it will affect a potential recession. While higher rates could mean that good news in the economy spells bad news for investors, good news in the economy could mean a recession is less likely, which is also good news for investors. Economic data backs up the confusion, according to the article. Even though the jobs market is very solid, industry is weakening; the Institute for Supply Management's December report showed a slowdown in manufacturing which its employment index rose. Likewise, unemployment is the lowest since 1969, but wage growth weakened in December as well. That could indicate a recession is coming, as employment usually only rises after the start of a recession, but it could also be the effect of "labor-hoarding," which would support a healthy jobs market while sacrificing profit margins, the article details.
Investor sentiment is also confusing; while surveys show that investors are more cautious than panicky, and gauges such as the VIX were neutral, purchases of put options as a hedge against declining stocks at the end of last year were high. Perhaps, the article suggests, investors are so programed to expect extremes—in policy, supply and demand, stock prices, inflation and interest rates—that now that the market is coming back down to earth, no one is sure of what to do. Although it's important whether there is a recession or not, or when the Fed will cut rates again, or if inflation will persist, things are finally starting to regulate again, which can only be good.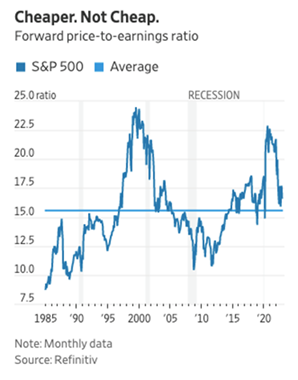 ———————————————
Validea runs stock and ETF models based on investment strategies with proven long-term track records. If you're new to Validea, consider taking a look at our product overview or introductory videos.
---