Finding profits from growth stocks has gotten harder and harder, especially as interest rates have risen. Investors have flocked to value stocks instead, with a 30% drop in the Russell 1000 Growth Index compared to a 10% drop in the Russell 1000 Value Index. And as long as the high interest rates stick around, growth stocks' appeal will be dimmed, reports an article in Barron's.
---
---
But many growth fund managers are forging ahead, and investors should take note of the opportunities that may be found on the growth side. Valuations have come way down, and many companies are still reporting earnings higher than the market average, with roughly 8% expected for 2023 in the S&P 500. Look for high-quality companies, the article advises, and shy away from stocks that are highly speculative and haven't proven profitable. What makes a high-quality company? A solid balance sheet, steady cash flows coming from operations, and a positive forecast for future revenue—and keep in mind that some companies can balance high valuations with very strong earnings. If a company doesn't check those boxes, move on; if they're unprofitable now, there's a good chance they will need to borrow money to stay afloat, and those high interest rates will eat into future profits. "You'll need to cast a wider net to find the true quality growth stocks of the next decade," Dave Donabedian of CIBC Private Wealth Management told Barron's, while Barnaby Wilson of Lazard Asset Management advised searching for businesses that don't need a lot of outside financing and have "high barriers to competition" and a "high level of financial productivity."
Using those attributes as a barometer, Barron's found a handful of S&P 500 companies that fit the bill, including tech giant Microsoft, solar-equipment manufacturer SolarEdge Technologies, which says it's projecting growth across all of its markets thanks to renewable-energy incentives from the federal government. Arista, which makes cloud-networking-gear, was another on the Barron's list; though its growth has slowed, it's still expected to see an increase in sales this year of about 24%, and 11% in 2024. Healthcare company Humana was another company that passed the Barron's test, as more retirement-age Americans purchase their Medicare Advantage plans. Meanwhile, Lazard's Wilson pointed to holdings such as semi-conductor-equipment maker ASML, luxury brand LVMH Moet Hennessy, and Unilever as quality companies in the Lazard International Quality Growth Portfolio fund, which he manages. So while growth may be slow this year, quality could become even more valuable.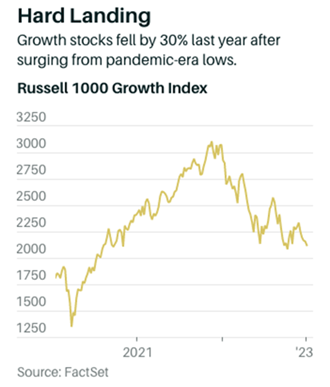 ———————————————
Validea runs stock and ETF models based on investment strategies with proven long-term track records. If you're new to Validea, consider taking a look at our product overview or introductory videos.
---