Last year, Harvard University allocated 14 percent of its $35.7 billion endowment fund to hedge fund strategies, but managed these internally rather than through outside managers. This according to a recent Bloomberg article by Nir Kaissar.
The article explains that this departure from the traditional endowment model (used by peers such as Yale and Columbia universities) represented an effort by Harvard to retain the typical management fees (2 percent) for its own coffers. Unfortunately, however, the plan has been costly for the university (see chart below):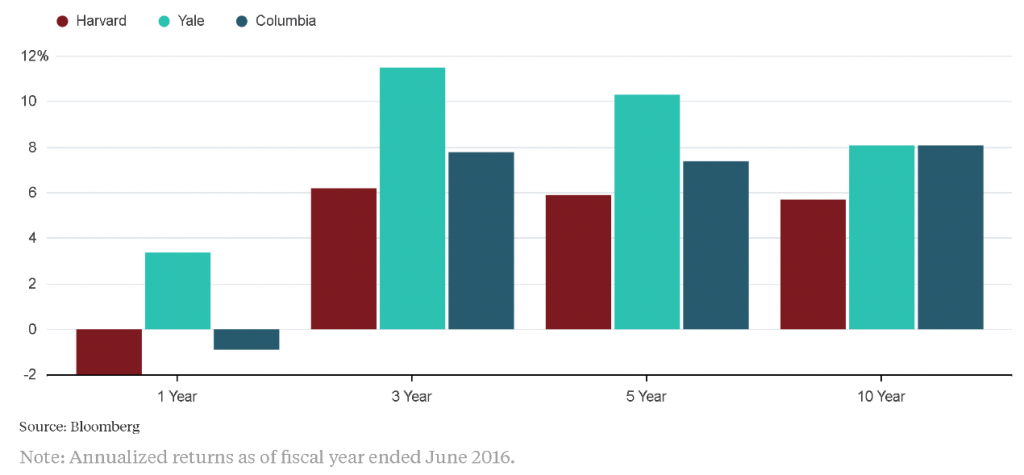 But change is underway, writes Kaissar. Harvard has hired Nirmal Narvekar, the former chief executive of Columbia University's endowment, who plans to "eliminate Harvard's internally run hedge fund strategies by the end of fiscal year 2017 and replace them with outside managers."
Kaissar explains that the increase in hedge fund popularity over the last ten years has "crushed returns" but adds he "wouldn't count Harvard out." The top decile of funds in the HFRI index (an equal-weighted index of hedge funds), he reports, returned 41.4 percent annually from 2007 to 2015 compared with 3.1 percent for the entire index and a negative 26.1 percent annually for the bottom decile.
"Granted," says Kaissar, "finding the best-performing hedge funds in advance is notoriously difficult. But Harvard will have access to any hedge fund manager it wants, subject to capacity—an advantage few investors enjoy."