Despite conventional wisdom that says rising U.S. rates will strengthen the dollar, Doubleline Capital chief investment officer Jeffrey Gundlach recommends going short on the S&P 500 and long on emerging market stocks, according to a recent Bloomberg article.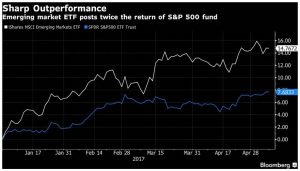 At the Sohn Investment Conference earlier this month, Gundlach quipped, "What the heck, let's have some fun."
In a CNBC interview, Gundlach explained he isn't predicting that the S&P 500 will fall, but suggested that "this year's bet is a relative value play," the article says. He emphasized, however, that investors have to watch out for value traps. "I don't like catching falling knives," Gundlach said.
As of March 31st, DoubleLine managed $105 billion, the article says, noting that 57 year-old Gundlach is "primarily a bond investor who has built a career making prescient market calls."