An article in The Wall Street Journal by columnist Jason Zweig reminds index-fund investors to understand what they own.
Zweig illustrates with the example of how the SPDR S&P Dividend ETF substantially increased its holdings in Tanger Factory Outlet Centers Inc. over the past three years such that, by the end of 2019, it owned 22.6% of the company's stock.
"Now that Tanger's stock has halved, the fund has to sell," writes Zweig, adding, "Short sellers, who bet on falling prices, smell blood and have been swarming Tanger." Zweig points out that the shares fell by 10% in late January on heavy trading, then recovered.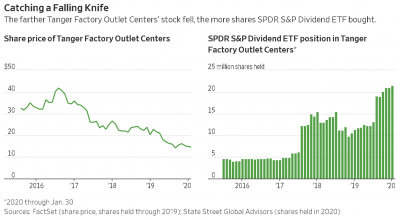 Zweig explains, "The story behind these events is far from an indictment of indexing. It's a reminder, first, of how diversification protects against unexpected market moves. It also offers a warning of how important it is for index-fund investors to understand what they own."
According to Ned Davis ETF strategist Will Geisdorf, ETFs often hold predominantly "small, boring stocks for yield-hunting investors" in sectors such as natural resources, real estate and utilities. Which means, Zweig concludes, that "if investors keep piling into the narrower, more-specialized ETFs that traffic in these stocks, it may be only a matter of time before such a fund ends up owning a third, a half or even more of some company's total shares. What happens with Tanger is a test case for what that kind of market might look like."