The majority of economic forecasters surveyed by The Wall Street Journal think the current expansion will likely end in 2020, "only after setting a record for longevity."
The survey, conducted early in May, involved 60 business, financial and academic economists. The article reports that 62% or participants said the primary cause of the next downturn would be "an overheating economy leading to Fed tightening." At least 5% of participants, the article reports, cited "a financial crisis, the bursting of an asset bubble, a fiscal crisis or disruptions to international trade."
The predictions, the article says, reflect the consensus view that a recession is not imminent, "but the expansion won't last forever—and the next downturn might arrive in the thick of the 2020 presidential campaign."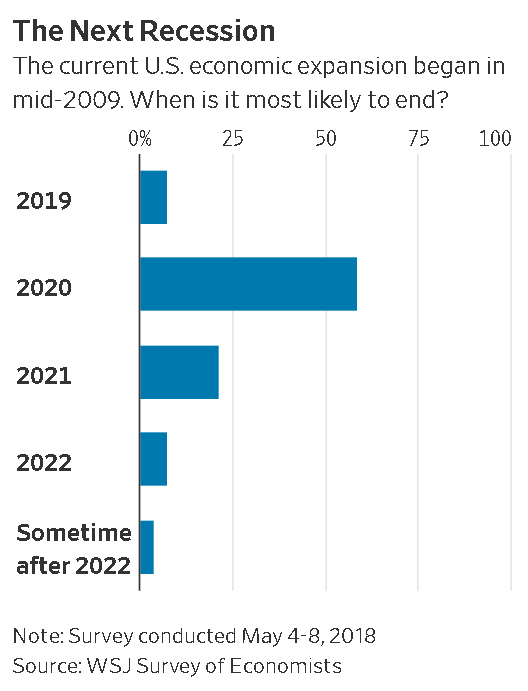 In the near term, forecasters believe the U.S. economy is on solid footing. On average, the article reports, they predicted that gross domestic product will expand by 2.9% in the fourth quarter of 2018 compared to a year ago and that unemployment will dip to 3.7% by year-end (from 3.9% in April). The average risk of recession within the next 12 months was predicted to be 15%.
Many survey participants cited mounting trade tensions as cause for concern but see U.S. productivity growth as overshooting expectations over the coming year—71% of economists think that productivity growth will exceed forecasts, the article reports.
While the recently-implemented tax cuts play a "supporting role" the article says, most of the economists surveyed said it is not the sole explanation.