Counting on cheap stocks to outperform shares of fast-growing companies hasn't been a winning approach for years, but many managers are expecting that to change in 2022, with partial thanks to the promise of higher interest rates, reports an article inBloomberg.
Globally, growth and value both returned about 20% in 2021, but in the U.S. growth stocks clobbered value. But now, some of the biggest investors like BlackRock and Franklin Templeton are saying that it's value's turn on the stage. In an informal survey of institutional investors last month by Bloomberg News, value was the most popular strategy, while a fourth of those surveyed said that cheap stocks would be dominate in 2022.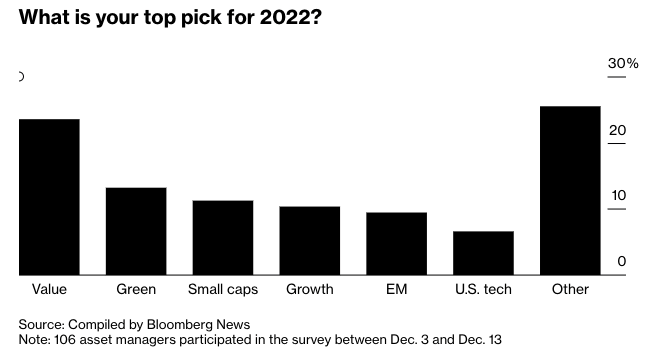 And the Fed's signal to expect interest rates to rise higher than anticipated makes value even more attractive. Those higher rates will lower the value of a company's future earnings, weighing down shares of those fast-growing companies whose profits are years away, and acting like a headwind against higher-growth companies such as those in the tech sector.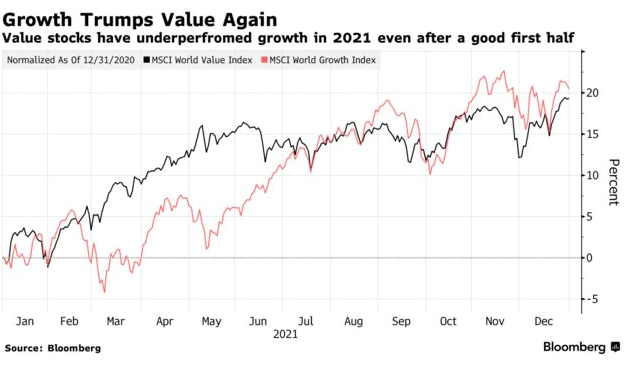 Of course, the pandemic made the investing outlook for 2021 murky, and volatility is expected to continue in 2022. And many of the conditions needed in order for value to rebound, such as a growing economy, regulations on high-priced tech companies, and rising inflation, along with the spread of the omicron variant, could fuel big gains for growth stocks this year as it did last year. Despite those odds, many investors are hoping that 2022 is the year for value. With inflation increasing amidst a fast-recovering demand and supply chain disruptions, opportunities in quality value stocks could be on the horizon.