Harvard University's endowment fund is unique in its holding of a $4 billion natural resources portfolio that owns assets across five continents, according to a recent article in The Wall Street Journal.
Since it has written down the portfolio's value by more than 10% last year, the university—once the "envy of the endowment world" according to the article– is "reworking" its portfolio in other areas as well, including an auction of $2.5 billion of private-equity, real-estate and venture-capital fund investments. The divestitures are part of an attempt by N.P. "Narv" Narvekar, the new endowment chief (who has been on the job for six months), to "engineer one of the investment world's most high-profile turnarounds."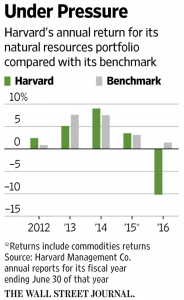 In New Zealand, for example, Harvard spent approximately $40 million over the last ten years to buy dairy farms and land, WSJ reports, and is now nearing a deal to sell these holdings for more than $70 million to KKR & Co.
The article points out, however, that "quickly scaling up or down Harvard's illiquid natural resource holdings is more difficult. Harvard isn't planning to sell its entire natural resources portfolio and could even buy new assets," but will divest investments "opportunistically."