After decades of swearing off the sector, Berkshire Hathaway's airline holdings make it among the biggest shareholders in the four largest U.S. carriers, and CEO Warren Buffett said he wouldn't rule out owning one. This according to an article in Bloomberg.
The comment is triggering chatter about which airline Buffett might acquire, especially since the legendary CEO is looking for a place to park some of Berkshire's $112 billion (as of year-end 2018) in cash. The article reports that Berkshire now holds airline stakes worth more than $9 billion, and that recent share declines in the industry might present opportunity.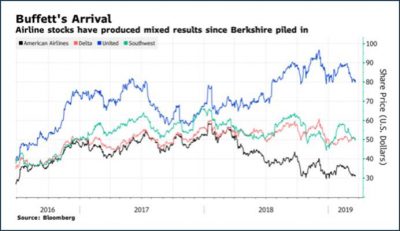 "While Buffett prefers to keep stakes in companies below 10 percent," the article says, "his Delta holding has crossed that threshold at about 709 million shares, or 10.4 percent."
Berkshire, it adds, is the biggest holder in Delta (at about $3.6 billion) and stakes in other airlines include Southwest ($2.8 billion), United ($1.78 billion) and American ($1.38 billion).
Although Buffett lamented his 1989 investment in USAir and once criticized airlines for being "suicidally competitive on price", the article reports that In recent years, Buffett has noted that the industry's pricing and labor issues have stabilized "as competition dwindled amid a string of bankruptcies and mergers."
"Investors looking at Berkshire's history with railroads may see a parallel with its investments in multiple airlines," the article says. It offers a 2017 comment by Buffett regarding the industry players: "It's fair to say that they will operate at higher degrees of capacity over the next five or ten years than the historical rates which caused all of them to go broke."