A Bloomberg article reports that Berkshire Hathaway's operating profit doubled last quarter, due in part to increased train traffic and an uptick in demand for electronic components. "The biggest boost," it adds, "came from the insurance division, where catastrophe costs fell almost 90 percent from last year 's disastrous third quarter, the sharpest decline among all major publicly-traded U.S. insurers."
Operating income rose to $6.88 billion from $3.44 billion in the third quarter of 2017. Berkshire also gained from a lower corporate tax rate, the article reports.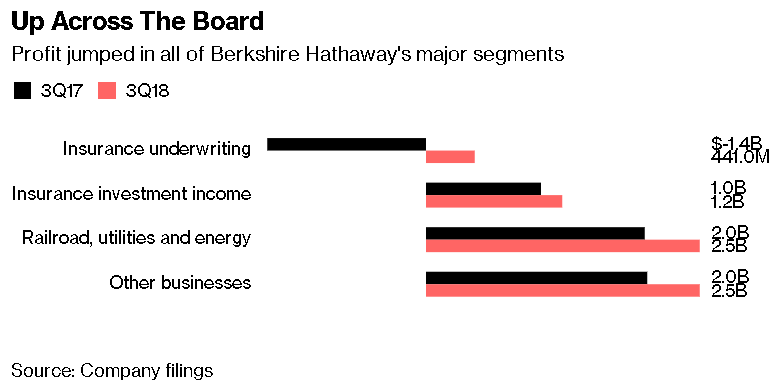 Insurance has long been the focus of Buffett's investment strategy, the article notes, as the businesses generate cash that he can invest before having to pay claims. "The key," it adds, "is avoiding large costs that drag down the other businesses when disasters hit."
Berkshire's net income more than quadrupled in the third quarter, according to the article, but could be reflective of new accounting rules that include swings in the company's stock portfolio in that figure. Buffett has advised investors to instead focus on operating profit, the article reports.
"Tighter trucking capacity and economic growth spurred gains at Berkshire's railroad," the article reports, leading to a 34 percent jump in third-quarter profit, while in the conglomerate's manufacturing, retailing and servicing businesses showed a 24 percent uptick over the same period.