A recent article in the Advisor Channel newsletter reports that "few Americans make investment decisions on their own," and outlines the top sources accessed for advice.
The article cites data from the U.S. Federal Reserve Survey of Consumer Finances indicating "which sources of information families rely on for investment decisions, and how their popularity has changed over time."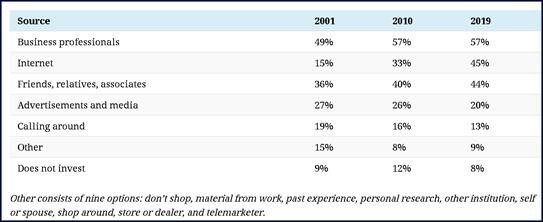 Here are some takeaways from the data:
"Business professionals, such as financial planners, accountants, and lawyers, remain the most relied upon source. Their popularity has remained stable since 2010."
Fewer look to advertising and media or "call around to financial institutions for investment information," the data shows.
Friends, relatives, and associates have grown in popularity as a source of information and advice.
The internet has been the fastest-growing source, used by three times more families in 2019 compared to 2001.
The article cites another study by the consulting firm Brunswick showing that search engines, blogs, and specialist email newsletters are the most popular sources, and that Twitter and LinkedIn are the most commonly used social media platforms: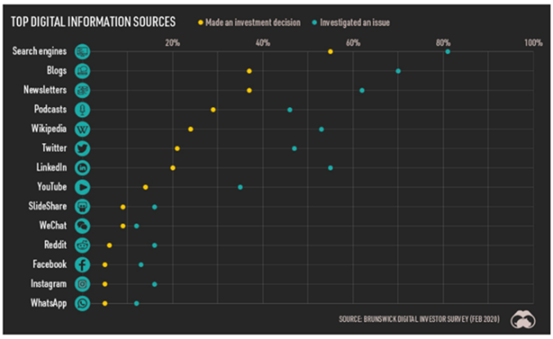 The article concludes, "If you're an advisor, these research trends can have important implications for your business. While business professionals remain the most-used source, other sources of information are shifting. Traditional advertising and inbound calls from potential clients continue to be less common. Instead, advisors may want to shift their focus to building an online presence and increasing referrals from existing clients."­­­­