In a piece for Bloomberg Opinion, Nir Kaissar questions whether the current winning streak of active managers can last. Of the 2,850 actively managed mutual funds in the U.S., almost 70% of them have beaten the S&P 500 this year—a huge increase from last year when the market was beaten by only 15% of U.S. large-cap stock pickers, or any other year going back to 2007 when the average was 35%.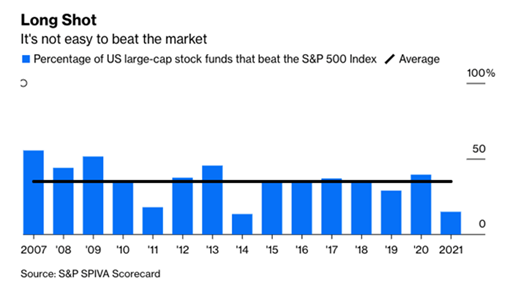 Since stock pickers tend to diversify widely across the market, it stands to reason that their well-rounded portfolios have an advantage over portfolios that are heavily weighted towards one sector, such as tech stocks which are doing particularly badly this year. But don't assume that this current success is here to stay, Kaissar writes. Evidence points strongly to more losses the longer these managers play the active management game: over the course of 10 years (though 2021), barely 17% of U.S. large-cap stock pickers outperformed the S&P 500, and over 20 years that percentage falls to 6%.
In an example of a long winning streak running out, Gabe Plotkin, who was once heralded as a "wunderkind" for garnering gains of 30% every year for 5 years, is now closing his fund after it dropped 39% in 2021 and 23% through April 2022. And Chase Coleman of Tiger Global Management has found his signature hedge fund down 44% this year while his long-only fund has plummeted 52%. Coleman blamed uncooperative markets in a note to investors—but markets aren't usually cooperative to stock pickers in the first place, Kaissar points out.
And while Peter Lynch's track record at the head of Fidelity's Magellan Fund between 1977-1990 is usually held up as an example of expert stock picking, Kaissar contends that the returns of 29% a year—outperforming the S&P 500 by more than 13%—were due more to good fortune than expertise. Lynch avoided the S&P 500 and instead bought high-quality companies that were selling at reasonable valuations. That well-known investing style was in particular favor over those 13 years; had he used the same strategy during the preceding 13 years, he would have only garnered about 6% a year in returns. So while the stories abound of stock pickers beating the market this year, it's best to remember that it's likely more luck than skill that's sustaining their current winning streak.