Although the markets "treated investors kindly last year," a recent Morningstar article points out that most active funds lagged their benchmarks.
Morningstar conducted a study of calendar-year total returns of all actively managed stock and bond funds between January 2005 and December 2019. Here is a summary of the findings:
Approximately 40% of active funds beat their indexes last year, only a slight improvement from 2018.
Only 20% of active U.S. stock funds outperformed their benchmarks.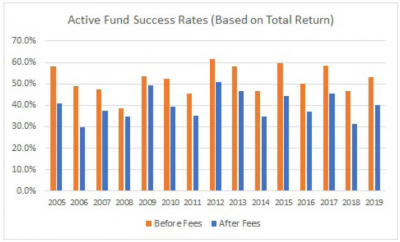 Active foreign stock funds were the best performers, with 53% beating their indexes last year.
"On average, successful active funds beat their benchmarks by around 3% in 2019, while unsuccessful funds lagged their indexes by about 3.60% last year.
More than 40% of active bond funds beat the market (net of fees) with muni-bond funds showing the highest success rate.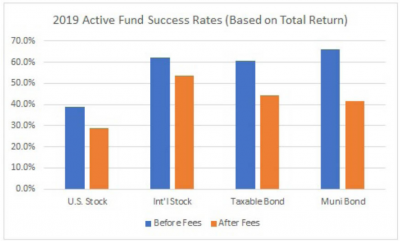 The article summarizes its findings: "Active funds generated strong absolute returns for investors, but the clear majority of those funds lagged their benchmarks. This was especially true of active U.S. stock funds, before and after adjusting for risk."
While 2019 saw a slight improvement over 2018, the article concludes that active fund performance "didn't much buck the long-term trend, which has seen active funds struggle to beat their indexes net of fees."