Since May, Bill Ackman's hedge fund has bought back more than 2.8 million shares of the publicly-traded version of its investment fund, according to a recent Bloomberg article, "essentially taking money clients gave him to invest and wagering it on himself."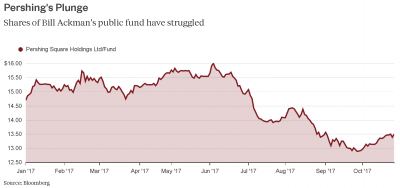 But the article suggests that the move "could be another blunder among hedge funds fumbling for fresh ideas," adding that the shares have lost value since.
While buybacks are typically intended to boost share value, the article reports that in the case of Pershing, they have "slumped an additional 14 percent since the buybacks began."
The article notes that publicly traded investment funds "don't have earnings, but they should still benefit from buybacks. There are just more variables." Ackman has pledged, it says, to triple the number of Pershing shares he has purchased to date, which could eventually boost share price. There are challenges to overcome, however.
"For fund buybacks to work," the article argues, "the value of the fund's investments have to rise, or at least not drop. And the fund itself has to hold its value. The funds of hot managers can trade at a premium. The problem is there are few big-name hedge fund managers out there right now as cold as Ackman."